12/25/22 More Oz in the New Year!
Merry Christmas and Happy Holidays!! After tackling a lengthy project in other lands, we return to Oz this coming year with Skydroppers of Oz, co-written by Diana Logue, and illustrated by Anna-Maria Cool! Stay tuned for this and other rare goodies to come!
10/4/21 New Stories are Coming!
It's been some time since I've given you all an update, but although I've been working on projects outside of Oz, I haven't been idle in terms of Oz. Thanks to several persons who really came through, I have a cache of never-before-published Oz stories from way back in the day--one of which was nearly a Jack Snow collaboration--all of which are excellent! Stay tuned in the coming year!
P.S. The Logical Kalidah of Oz, now titled, The Lost Girls of Glinda the Good, had been made available for purchase on Amazon.com by author Andrew Heller, and includes the 2nd edition of The Giant Chinchilla of Oz. They're both great stories, so check them out!
Also, if you haven't picked up The Duende of Oz, by David F. Salas (illustrated by Hector Rivas) or The Spellcasters of Oz, by Philip John Lewin (illustrated by Kamui Ayami), do so, as they are consistent with the Sovereign Sixty and other stories listed on The Royal Timeline of Oz. I'll do a review of both books in the coming year.
12/11/20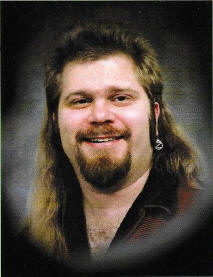 Very sorry to have to post the news that Chris Dulabone, creator of Tails of the Cowardly Lion of Oz, passed away last night.
Chris Dulabone was the first--and certainly the most prolific--publisher to get new Oz books out to the public. Several Oz authors and illustrators got their start with Chris, including Melody Grandy, Phyllis Ann Karr, Marcus Mebes, Atticus Gannaway, Greg Gick, Greg Hunter, Marin E. Xiques, Margaret Berg, Dennis Anfuso, Darryl Colt Spradlyn, and numerous others. Chris had a big heart for kids and often encouraged them to read and write Oz, as evidenced by his Wiz Kids of Oz series and others.
Even in poor health, Chris continued to put out new material, the most recent being The Rubber Ostriches of Oz, written by Chris himself and his frequent co-writer and good friend Marin Xiques; and illustrated by Sam Milazzo.
Chris was the first serious Oz fan I'd spoken to when I first decided to go down the rabbit-hole that is the Oz expanded universe; he patiently explained to me the concept of author-as-historian; and his site (https://sites.google.com/site/cowardlylionsite/lionlist) was one I frequently visited in those early years of collecting. My own timeline and publishing company were inspired Chris'.
Chris has crossed the Shifting Sands to a better world, and will be sorely missed by all of us who knew him or his books on this side of the divide.
9/23/20
I'm sorry to announce that due to creative and personal differences, The Logical Kalidah of Oz and Other Tales, by Andrew Heller, illustrated by Emily McLaughlin, will no longer be published by The Royal Publisher of Oz. We wish the author much success in whatever endeavor he chooses to take with his book.
9/12/20 Forthcoming Book!
The Logical Kalidah of Oz and Other Tales, by Andrew J. Heller, is currently being laid out! The book will include the full-length story The Logical Kalidah of Oz, the short story "The Puppet-Mistress of Oz" and as a bonus, a reprint of the full-length story The Giant Chinchilla of Oz! The former two are newly illustrated by the wonderful Emily McLaughlin, while the latter is illustrated by Andrew's daughter, Rachel Heller. The Logical Kalidah of Oz takes place in 1809, and concerns the adventures of young Sarah Johnson, of Iowa, who is brought to Oz by Glinda in a plot to defeat the Wicked Witch of the North, who has enchanted and married the Gillikin king. Sarah is accompanied by Glinda's apprentice Estelle, a Kalidah, and a living Dust Devil. But what they discover may shatter the purpose of their entire quest!
8/2/20 Site Update
Emily McLaughlin completed her illustrations on the forthcoming book The Logical Kalidah of Oz, by Andrew J. Heller, and they are gorgeous! Expect a release date in the coming months.
6/2/19 NEW OZ BOOK AVAILABLE!!
The Haunted Castle of Oz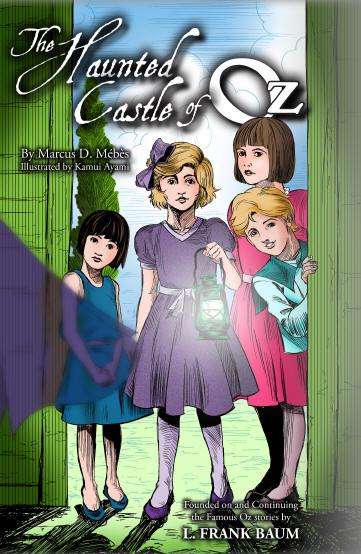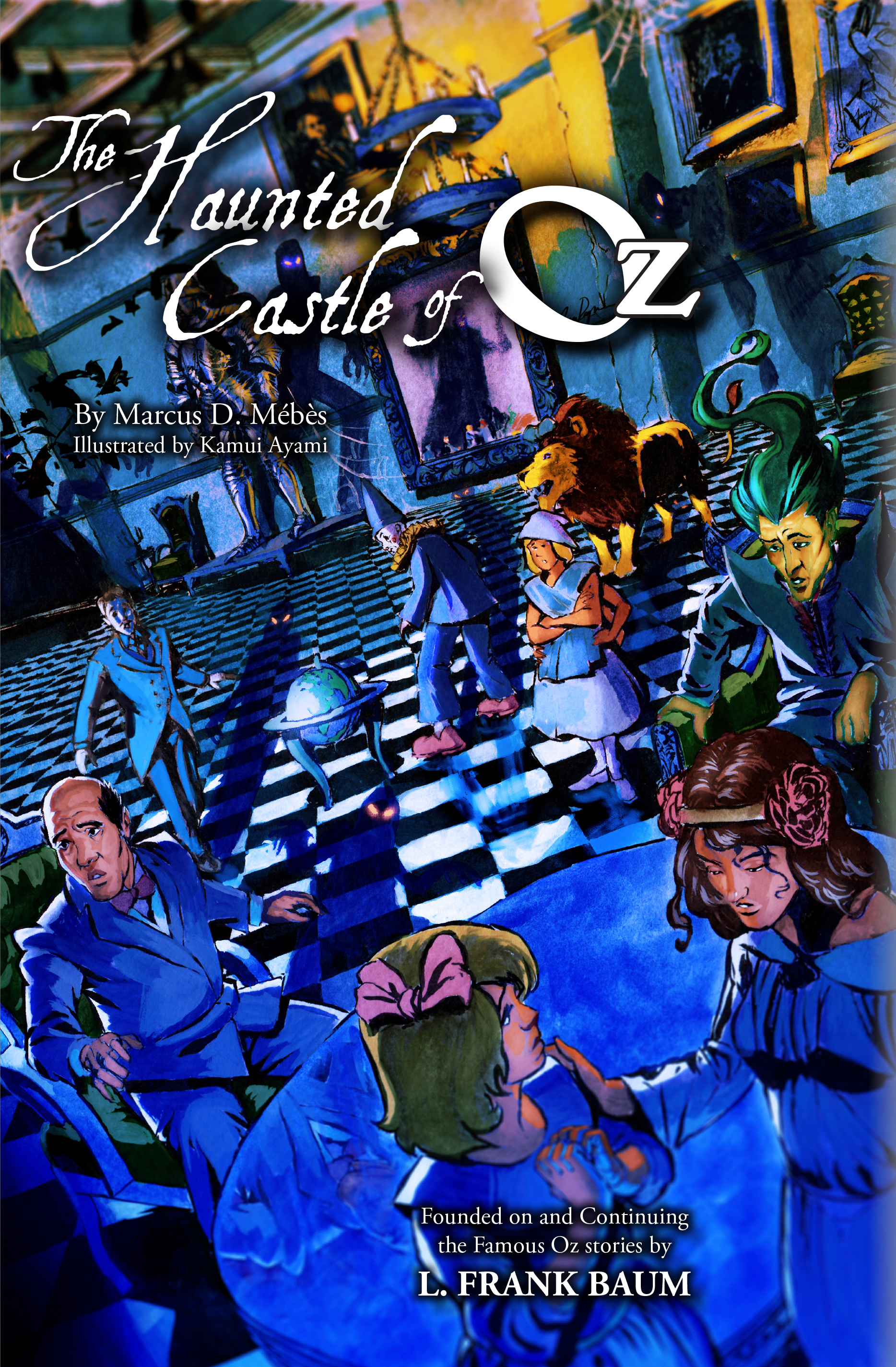 By Marcus Mebes
Illustrated by Kamui Ayami
Ghosts... in the Emerald City? The concept is unheard of! Death does not exist in Oz... and even if it did, Oz is the happiest place on earth! So, why would a morose ghost be haunting the halls of Ozma's palace?
Join us as Dorothy, Trot, Betsy Bobbin and Button Bright investigate. What they uncover might be more than anyone had considered, and is sure to change the way many of the familiar Oz celebrities look at life and death. With old favorites and rarely-seen Ozian celebrities, The Haunted Castle of Oz is sure to delight, surprise, and maybe even terrify readers!
Available in trade paperback and hardcover. The limited edition deluxe version includes an exclusive cover by Jaun Raza, a color plate of the cover without titles, a new Afterword examining the history of The Haunted Castle of Oz, new b&w illustrations by Kamui Ayami, and all the previous illustrations from past artists, including Patricio Carbajal, Diana Karounas, David Bishop, and Marcus Mebes (from his out-of-print original version)!
Order them here:
5/28/19 Oz Stories on the March!
Some great new Oz stories are coming your way, three from Nathan M. DeHoff, which are fantastic! They feature some rarely used characters from the series, and make sense of odd things in older books in very clever ways! (You'll find the titles of these popping up on the timeline shortly, starting with "The Butter Lamb of Oz"! Also, The Haunted Castle of Oz should be available in hardcover, deluxe, and trade paperback VERY soon! So, stay tuned!
3/19/19 The True History of the Wizard of Oz
The Royal Publisher of Oz is proud to present the new graphic novel How the Wizard Came to Oz!
Press Release:
120 years after the release of L. Frank Baum's The Wonderful Wizard of Oz, the Royal Publisher of Oz is publishing a graphic novel telling the canonical tale of How the Wizard Came to Oz!
L. Frank Baum's legendary Oz series was the first American fantasy universe, spawning numerous sequel novels, Hollywood films, Broadway plays, animated television series, collectibles, and much more! But where Baum focused on Dorothy's adventures, the Wizard's discovery and trials in Oz remained untold until now! Written and illustrated by Oz scholar Donald Abbott, known for his popular Emerald City Press novels and illustrations, How the Wizard Came to Oz reveals the true story of the Wizard of Oz!
When Oscar Diggs crosses the Deadly Desert by balloon, he find himself in a strange land where wicked witches rule and magic is real! Oscar must use his wits and the help of friends like Glinda the Good to outmaneuver the dark forces unleashed by Morella and Malvonia, the Wicked Witches of the West and East, who are bent on his destruction!
A tale of action and adventure set in a fantastic realm, How the Wizard Came to Oz first appeared as a short story in the pages of Oziana magazine's 1976 issue. This was followed by his novel of the same name. Now, at last, the complete story of Oscar Diggs' earliest adventures in Oz, is revealed! Available everywhere in trade paperback, $16.99. 143 pages.
1/15/19 Free Ebook/Audiobook
Andrew J. Heller, the author of Good: Glinda and the Plot Against the Wicked Witch of the North (forthcoming in book form as The Logical Kalidah of Oz) is offering free audiobooks or ebooks of the story to the first 10 interested parties in exchange for a review on Amazon. Contact him at: aheller2@verizon.net, and let him know which format you prefer (ebook, Kindle, epub, or PDF).
Also, keep your eyes peeled for news on Donald Abbott's graphic novel How the Wizard Came to Oz!
11/28/18 Holiday 2018
If you haven't yet joined the International Wizard of Oz Club, now's a good a time as any! The newest holiday card comes with an exclusive new short story, "The Troublesome Party of Oz," by Nick Campbell. When it's discovered that the Tin Woodman will not be marrying his old flame Nimmie Aimee, Dorothy decides to throw a party anyway. But the guests that arrive are not your usual partygoers! Head over to www.ozclub.org and sign up for membership today!
9/11/18 The Royal Publisher of Oz Grows!
Marcus Mebes has joined the team of The Royal Publisher of Oz! Marcus brings with him a highly professional skill-set, passion for the subject matter, a dedicated work ethic, and years of experience, all of which will mean greater quality and more titles released! Stay tuned here for forthcoming projects being developed!
A new Oz tale has been added: "Halloween Island," by Nathan M. DeHoff has the crew and guests of the Crescent Moon embark on a strange island in which they meet minotaurs, the Headless Horseman, and Frankenstein's Monster! You can read this extraordinary tale here! With the crossovers of Mary Shelly, Washington Irving and others to Oz canon, these original novels have been added to the timeline!
8/26/18 Win a Free Copy of Andrew J. Heller's new book: Good: Glinda the Good and the Plot Against the Wicked Witch of the North!
The giveaway starts on Nov 1 here. Just click on it and click "claim" to enter. When 9 year old Sarah Johnson of the Illinois Country is asked by Glinda the Good to help the Sorceress destroy the Wicked Witch of the North, she does not know that she is being used as bait in a trap for the Witch... and bait is disposable. Good is an exciting fantasy adventure, filled with humor, magic, talking beasts, humbug magicians, and intrigue, set in Oz a century before the events described in The Wonderful Wizard of Oz. Readers of all ages will enjoy this new fantasy written in spirit of the creator of Oz, L. Frank Baum.
8/21/18 The Lost Tales of Oz is Out!

The ultimate Oz anthology, The Lost Tales of Oz, is now available in three versions! Limited edition deluxe hardcovers will come with one color plate and the 84 page companion booklet Lost Histories from the Royal Librarian of Oz, which includes three new stories and an exclusive cover and interior image by Eric Shanower! There are also standard hardcovers and trade paperbacks available! Head over to our catalogue for more details!
8/12/18 Lost Histories Companion Booklet at the Printers and Replacement Copies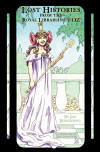 The 84 page companion booklet to The Lost Tales of Oz, called Lost Histories from the Royal Librarian of Oz, is at the printers!

It will be available free to those who purchase the deluxe edition of The Lost Tales of Oz, which will be available directly through the website. After deluxe editions are sold it, it will be made available separately.

On a separate note, it's come to my attention that advanced Oz-Con editions of The Lost Tales of Oz have several typographical errors. If you were at the convention, purchased one, and would like a replacement copy, email me with a picture of the book and I'll ship you one asap. My apologies for any problems this might have caused.
7/31/18 Special Advance Release for OzCon Goers and Official Release Date!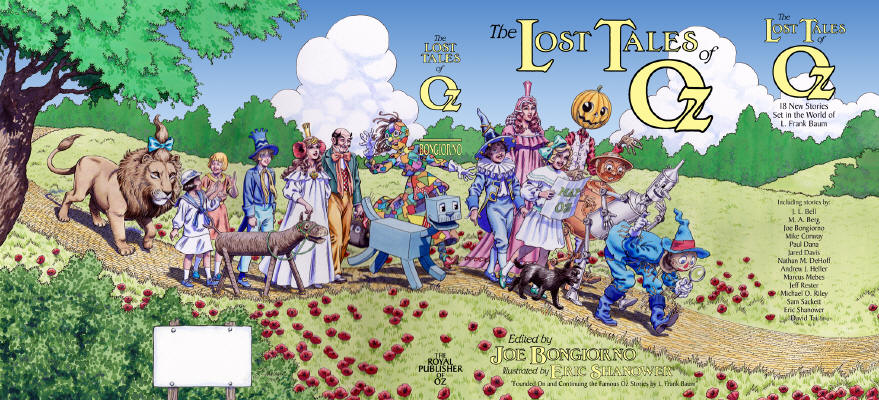 Those of you heading to OzCon 2018 will have the opportunity to purchase a special advanced release of The Lost Tales of Oz ahead of its official release date on Ozma's birthday, August 21, 2018! Attendees who purchase the deluxe edition will also benefit by getting the companion booklet, Lost Histories from the Royal Librarian of Oz, which will be mailed to them. This booklet, which features two exclusive stories not published anywhere else, and two exclusive illustrations by Eric Shanower, will be available for a limited time for those who purchase the deluxe hardcover version of The Lost Tales of Oz in the first month after the book's official release, after which it will be sold separately.
7/9/18 Loony Loons
Synopsis and Continuity Notes for Margaret Berg's Ozallooning in Oz is now up!
Also, Monica Guido is currently producing a series of Oz coloring books from each of the books! Check out here work here!
6/15/18 Tweaks
Fine-tuning the events of How the Wizard Came to Oz with Cryptic Conversations in a Cornfield, specifically dealing with the Scarecrow's creation. The latter shows the Wicked Witch of the East brought him to life with the Powder of Life, whereas in the former a magician takes the credit. The recton is listed in the continuity notes of How the Wizard Came to Oz.
6/14/18 Even More Additions
Added synopses & continuity notes for Oz-story Magazine #2's "The Greed Goblin of Oz," Mark E. Haas' Leprechauns in Oz, and Dennis Anfuso's The Winged Monkeys of Oz.
6/12/18 More Additions
Added synopses & continuity notes for Oz-story Magazine #1's "Percy and the Shrinking Violet," "Gugu and the Kalidahs," and "The Balloon Girl of Oz."
6/11/18 Additions
Added synopses & continuity notes for Oziana 1995's "Pigmentation" and the Ruth Morris book Dr. Angelina Bean in Oz. More to come...
5/10/18 Sprucing
Just a little spring cleaning around the Summaries and Continuity Notes page.
4/30/18 Yookoohoos Running Wild!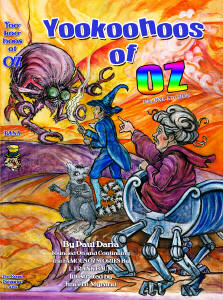 YOOKOOHOOS OF OZ, by Paul Dana, illustrated by Vincent Myrand, is now available in standard hardcover and deluxe hardcover editions.

Button-Bright's Grandma Natch is throwing a party that Button-Bright and Ojo won't soon forget. All of Oz's oddest Yookoohoos are coming! But who is the mysterious stranger, and what is the bizarre gift that he brings?

Soon, the the boys are off on a perilous journey through the Gillikin Country, where along the way they'll discover hidden truths about the secretive shapeshifter Red Reera, giant spiders, and a mechanical monstrosity with a will of its own! But in a little house behind a picket fence, waits a surprise that even Grandma Natch can't imagine!

The standard hardcover features a full-color cover dustjacket and numerous interior B&W illustrations by Vincent Myrand. 188 pages. The deluxe edition hardcover includes all of the above, plus three of the B&W images colored by Myrand.

A trade paperback will follow in the days ahead. Stay tuned here.
4/26/18 Audibly Audacious
King Rinkitink, by L. Frank Baum & Andrew J. Heller is now available on Audible!
3/17/18 Oz Fiction and Non-Fiction Contests!
Do you have a great Oz story to tell? Or is there some research you've done on Oz or its authors that you've been anxious to share? Well, now is your chance! The upcoming Oz Fiction and Non-Fiction Contests are coming! Here are the rules: http://ozclub.org/oz-club-contests/
3/16/18 The Lost Tales of Oz Cover Release
Head on over to The Royal Publisher of Oz to check out the cover and table of contents for the forthcoming anthology The Lost Tales of Oz, edited by Joe Bongiorno, illustrated by Eric Shanower. Due out in May!
3/13/18 Gardens of Oz
Recently completed The Magic Ruby of Oz, which has been re-placed in 1962, The Giant Garden of Oz, which has been re-placed to 1987. I've also added two entries to 1944 on the timeline, The Answer Lies in Oz, which is tremendous fun and available now on Amazon.com, and it's sequel, which I just finished reading, In the Name of Oz, which should be out later in the year. I won't add synopses until they've been out a bit longer, though I did recently add the book The Prankster of Oz, which is excellent, and available on Amazon.com.
2/20/18 The Emerald City Mirror is Complete!
At long last, every story in every one of the 71 issues of the Emerald City Mirror is up with a synopsis and continuity notes! They've also been placed throughout the timeline in the appropriate locations. I'm also trying out a new look for the primary Oz Timeline... as well as a new name for the page (so, if you've bookmarked "Mainline Timeline" be sure to change it to Oz Timeline.
2/17/18 Wonderful Journey...
I'm up to the last arc of The Emerald City Mirror and just completed the synopsis and continuity notes for A Wonderful Journey in Oz (which I think will benefit from a revised & expanded version).
2/9/18 More...
For an assortment of reasons that you can read about in the continuity notes of issue #41, I've moved two story arcs (6 and 7) of The Emerald City Mirror to 1923, with the understanding that the writers of that newspaper had decided (due to a slow news week) to tell previously untold stories from years gone by. This move solves quite a few problems.
2/7/18 More Little Changes...
With the placement of The Patchwork Girl of Oz 1906, Bungle's date of creation (six years prior when Dr. Pipt's first batch of Powder of Life was produced) moves to 1900, which accords better with the fact that Mombi acquired it a year later from him. Additionally, I'm adding entries and summaries for The Emerald City Mirror, which I'm anxious to finish. This series may have to be moved earlier... more research is required. The presence of the former general Guph as Chief Steward to King Kaliko, a king that Guph betrays when he usurps the throne (in The Red Jinn in Ev) and hands it to Ruggedo (in A Refugee in Oz), likely means that these stories take place during these events. As Ruggedo is the one that led the invasion of invisible nomes in the first Emerald City Mirror arc (issues #7-13), this makes some sense. There are new dates for all of these Ruggedo stories, as well, which have been moved up to 1941-2 to accommodate the fact that the Ruggedo was a noisy cactus for 40 years as per the Goblin King in The Enchanted Gnome of Oz, which has a cardinal date of 1982.
I forgot to mention here that the paperback edition of King Rinkitink is available on Amazon.com
1/25/18 Lots of Little Changes...
As I prepare the final draft of the forthcoming anthology The Lost Tales of Oz! These stories in here are brilliant and I know you guys are going to enjoy them! Prepare yourselves for adventure, excitement, whimsy, joy, terror, and revelations galore!
1/8/18 Paperback Release Forthcoming and Timeline Updates
Any day now, I'll be announcing the release of King Rinkitink in paperback. I'm currently working on final drafts for The Lost Tales of Oz. The interior images are complete!! Timeline updates include 1900-1, mention of the Munchkin political scene with Vaneeda and Froom's bid for power. This sentence will make much more sense once you've read the forthcoming "Vaneeda in Oz," by Nathan DeHoff!
12/27/17 New Releases!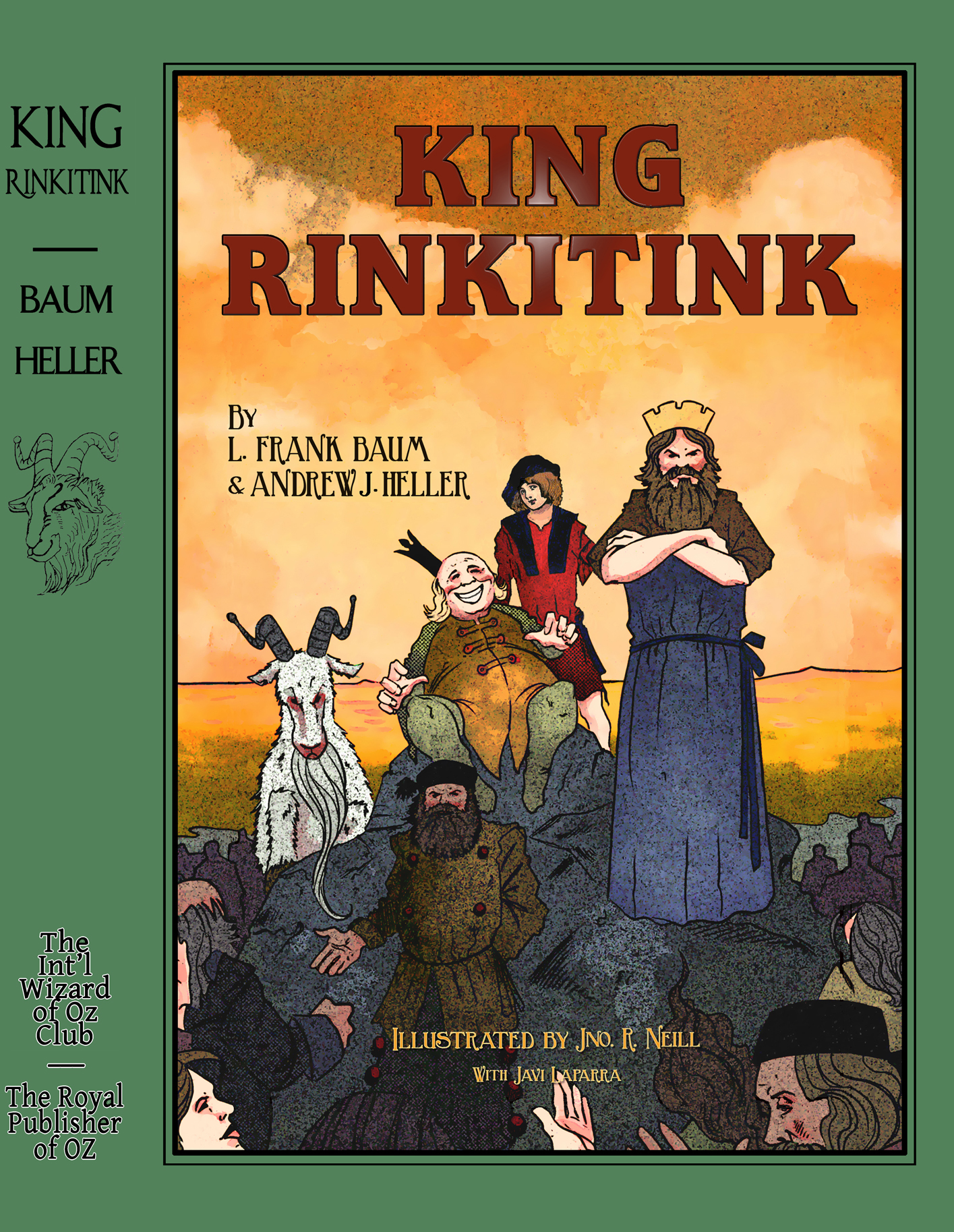 In the introduction to his 1915 fantasy, Rinkitink in Oz, L. Frank Baum wrote "Here is a story with a boy hero of whom you have never heard… I think you will find [it] quite different from the other histories of Oz, but I hope you will not like it the less on that account."
In fact, readers found much to like; the protagonists are interesting; the adventures are filled with intrigue, excitement, and humor; the villains are palpably dangerous; and the locations are exotic and interesting. Over the years, however, not a few have expressed disappointment in the final few chapters. After Inga, Rinkitink and Bilbil have overcome so many obstacles and dangers, it comes as something of an anticlimax to have Dorothy Gale suddenly appear out of the blue to save the day.
Or does she?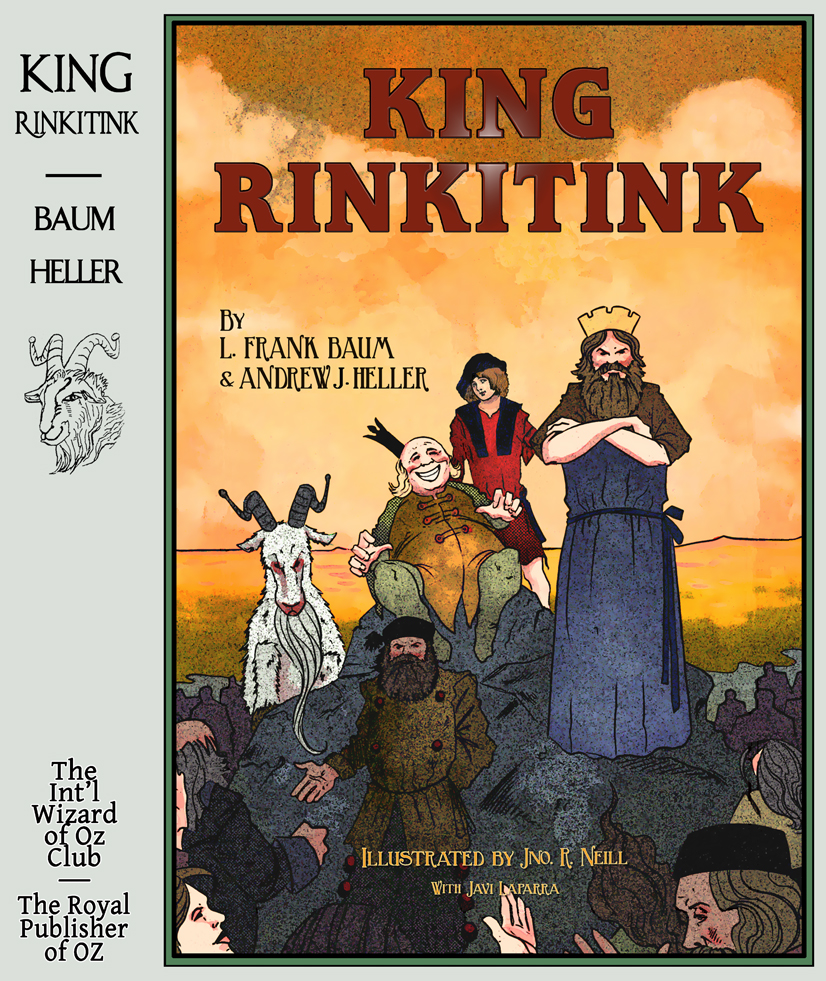 As it turns out, this was not Baum's original ending for the story. The original, written over a decade earlier in 1905, under the title King Rinkitink, was a non-Oz fantasy that very likely had the book's main protagonists save the day.
Although Baum's original manuscript was destroyed, the truth will out! In 2015, a century after Rinkitink in Oz was published, the International Wizard of Oz Club ran a contest to discover what really happened down in the Nome King's caverns! With Marcus Mebes, Lee Speth, Gina Wickwar, and myself serving as judges, the true story was unearthed from among the many excellent entries written by a host of talented writers (all of which can be read in the Oziana 2016 magazine), in the tale by Andrew J. Heller.
After a hundred years, we at last know how our stalwart band overcame the Nome King to bring King Kitticut and Queen Garee home. I think you'll agree, it was worth the wait!
This joint effort of The International Wizard of Oz Club and The Royal Publisher of Oz is available in two editions, a Deluxe Hardcover with the five new chapters, numerous black and white illustrations courtesy of John R. Neill and Javi Laparra, and 12 color plates, and a standard hardcover edition with above features and the color illustrations reproduced in black and white. You can find them here!
If that's not enough for you, I've also released two sequels to King Rinkitink, free for all to read, "King Rinkitink and the Trials of Prince Bobo," by yours truly, and "Return to Boboland," by Nathan M. DeHoff! Enjoy!
12/25/17 Mistakes and Corrections
Special thanks to my eagle-eyed friend Douglas Ethington for letting me of a few errors that crept into the timeline, which have now been corrected!
12/18/17 Continuing...
Emerald City Mirror. Up to issue 27 with a long way to go!
12/13/17 Continuing work...
On the Emerald City Mirror. Up to issue 19 with a long way to go!
11/24/17 Restoring
How the Wizard Saved Oz has been taken out of Parallel Histories placed in 1892 of the Mainline Timeline, though this has required a few page cuts to excise the contradictory material allow the bulk of the story to fit in continuity.
11/17/17 Rearranging
I've restored Hurray for Oz to its original date of 1988, placed parts of its sequel Fairy Wand of Oz in its place 1992, and restored The Giant King of Oz to 1989, and The Silver Shoes of Oz to 1987. If you're wondering why those were all out of their textually-indicated dates, it's because of the appearance of Mr. Yoop in The Giant King of Oz. Six years earlier, in "The Fate of the Yoops (or The Yookoohoos of Oz," (Oziana 1983) Mr. Yoop had been turned into a green monkey by Reera the Red, who had agreed to get her sister Moyna Yoop out of that form (she ended up turning her into a turtle afterwards). Given how difficult it is to escape that enchantment, it seemed that the events of The Giant King of Oz had to take place before 1983. However, he must have found a way to escape that form, possibly from Red Reera or another Yookoohoo. Whatever the case, it's a story that is yet untold.
Update: The placement of King Rinkitink/Rinkitink in Oz has been moved to before The Emerald City of Oz in keeping with the forthcoming Baumian-version to be published by The International Wizard of Oz Club and The Royal Publisher of Oz.
11/16/17 Beware the Carnival of Oz!
Have you yet discovered The Carnevillans of Oz? It's an ongoing, online comic-book series, written by John Bardy, and illustrated by Andrea Montano. It's set after Glinda of Oz, is faithful to Baum, well-written, well-illustrated, and a lot of fun! Currently, two and a half-issues are up, with more to come! Start with issue #0 online here!
11/15/17 Big Shout Out to Douglas Ethington!
I just wanted to express my gratitude to Doug for once again going over my site with a fine tooth comb and catching numerous errors, some spelling and grammar ones, some continuity and textual ones! Thanks Doug for taking the time and effort to make this site the best it can be!
11/14/17 Oscar Diggs was born in 1848
I made an earlier mistake in my calculations, but based on the information provided in "The Adventures of the Sinister Chinaman," Oscar Diggs was born in 1848, and was 50 years old when Dorothy first met him in 1898, and 54 when he returned to Oz in 1902. See the above entry for details.
11/6/17 More Fixes, More Stories, and a New Book!
I've got the links on all the pages fixes. I've also added more stories to the New Oz Tales page, including a wild one from Marcus Mebes called "Peer Counseling." And I just discovered (a bit late) that Marin Elizabeth Xiques and Carol Silva has released a new book under the Tails of the Cowardly Lion & Friends imprint, their first in a long time, called Fairy Wand of Oz. It's a sequel to Hurray in Oz.
11/2/17 Fixes Done
Just wanted to quickly write that I've fixed all of the broken links in Summaries & Continuity Notes!
10/13/17 More Additions
Adding a few more Emerald City Mirrors, and beginning the process of looking into the wild idea that one of those stories puts forth that Roquat and Ruggedo are actually two separate individuals, brothers. You can find that in the 17th issue of that magazine, in the story "How I Spent My Winter Invasion." If true, it might explain some of the many additional Oz stories that deal with the former Nome King!
10/9/17 Adjustments
Amongst other updates, Oziana 1994's "Billy Bumble of Oz" has been moved to 1964 and given a synopsis and continuity notes. That same issue's "Ghosts in Oz" has also been moved to Patchwork Parodies & Poems.
10/6/17 Construction Time Again
Work continues apace at bringing every former footnote page (and Oz magazines) under one page. Almost there! I've added a few stories that I'd been meaning to add for some time, as well as shifting some things around from page to page. For example, "The Final Fate of the Frogman" is now back on the Mainline Timeline, but followed by notice of a forthcoming sequel to it that I wrote to explain how the Frogman is in future stories. This was something I'd been meaning to do for a long while, but until now I didn't have the time necessary to ponder how. It's being proofread now, so it should be available soon, and hopefully you guys will like it. There's a lot more on the way, so keep your eyes peeled here or on the Facebook page.
9/27/17 Updated Newly Added Tales
I got permission to add "The Prosecutor of Oz," by Don Reynolds, and "To Do One's Duty," by Bookgirlfan, and "The Road Built in Hope," by Jougetsu. All three can be accessed here. More coming!
9/25/17 Website Tightening
As I mentioned back on 9/2, I've decided to finally streamline things a bit in terms of the plot synopses and continuity notes. I formerly had multiple "footnote" pages, which were designed back in a time period in which pages with images took a long time to load. Now that that's no longer the case, there's really no need for multiple pages, and they actually are a hindrance to research. I created a single "Summaries and Continuity Notes" page into which all the previous "footnotes" pages will eventually go (currently the first three are there). This way, if you want to search to see how many stories Trot appears in, you need only search the one page, and not 14. This is going to mean that the interior links are broken for a time until I get to them. But that's fine. The links on the Mainline Timeline are being updated as I do this, so they'll be fine. It's just the links in the former "footnotes" pages that will get broken, and I'll eventually get to them once I have everything else done. This really should make life easier for fans, authors and editors of the future to find information on people, places, and things quickly.
9/12/17 Rearing to Write About Reera
Added a few details about Reera's past, including her marriage and quick divorce to Prince Glenn in 1940, and the child she had in 1947, of which I cannot speak at this time. I also added the upcoming Oziana 2017 stories, "Angry Jack," "The Road Not Taken" and "Unsociable" to the timeline.
9/6/17 Munchkin-sized Updates
So, the site is back to where it aught to be. I added the chapter titles for the forthcoming Immortal Longings in Oz, by Paul Dana (illustrated by Jaun Raza), which should prove intriguing. I'll do the same for The Yookoohoos of Oz, also by Paul Dana (and illustrated by Vincent Myrand), and also forthcoming, when I get them.
9/2/17 Linked Out
As some of you are aware, I lost about a month's worth of work when I changed a failing hard-drive, not realizing that when I next uploaded the site, I would be uploading the last version of it that I'd saved to my backup drive (which wasn't as current as it should have been). While I was thankfully able to pull the lost information from my old hard-drive and integrate it in with the changes I made since (as I didn't discover the problem until a few months later), what I didn't realize until now is that some of the links won't work. Since I've been taking material that's opened from a backup drive, the links connect to pages on the backup drive. Sigh. Needless to say, there's probably more than a few broken links as a result. If any of this site's eagle-eyed fans are out there, feel free to let me know what broken links you discover, and I'll be happy to repair them. However...
My ultimate goal is to actually eliminate all 12/13 footnote pages and just have one. That would make searches far easier. So, for example, if you wanted to see how many stories Scraps appears in, you'd be able to do that searching for "Scraps" and "Patchwork Girl" on one page, rather than on a dozen. "Why did you it that way in the first place?" you ask. Well, back when I first started this site, internet speeds were ridiculously slow. The idea of having only one page with numerous images and text was simply impractical, as it would take forever to load. So, I broke it up into a dozen, easy-to-open pages. Now, of course, with internet speeds allowing even the heaviest image-laden pages to open in a matter of a second or two, it makes sense to redesign the site to make it easier for people to do searches, particularly authors who might want to revisit subjects she's touching upon, e.g., in what stories is the Barrier of Invisibility mentioned? What was Guph's last appearance? What's Dr. Pipt's first name?
That means that all the links in the footnote pages, as well as on the Mainline Timeline are going to change. From what I recall, the archaic (but wonderful) web-design program I use (MS Frontpage) should help with recalibrating some of those changes, but I've a feeling I have a bit of work ahead of me. Still, I think it's worth it. So, my eagle-eyed viewers, don't go crazy looking for broken links since they're all going to be redone anyway at some point.
Update: Turns out I have to change my server anyway before the end of the year (as they're going out of business), so hoping that everything goes well, that would be a good time to make the further tweaks on this site that I noted above.
9/1/17 Footnotes Finished
I've correlated all the footnotes with the pre-deleted version. There's still a few more pages to check, but by and large we're back up to speed, and by next week, I should be able to return to getting the Emerald City Mirrors summaries up.
8/26/17 Bungled
I moved Bungle in Oz to 2005 to account for Victor Columbia Edison's marriage in that story, a move that will make more sense once the story "Quiet Victory" is released in the forthcoming The Lost Tales of Oz.
8/24/17 Minor Updates and Repairs
As I'd lost a month's worth of work in March when I replaced my hard-drive (which I didn't realize until a week ago), I've been hard at work restoring the lost data, which thankfully I was able to retrieve from my old drive, and supplementing it to the new data I'd since added. It's going to take a bit more time, but I have most of the work done.
8/14/17 Minor Updates
Continuing work on the Emerald City Mirrors, currently up to issue 12, though none are yet edited, and there are not many continuity notes, which is something I'll do (if called for) at some point, possibly after I finish transcribing my notes, which are up to issue 27. The series goes to issue 64, and not a lot of people have them, so I'd like to get all the synopsis up before moving on to the next books and such. Still a lot more to come!
8/13/17 Where are the Answers? In Oz!
I'm happy to report that Charles Shearer's excellent and fun book The Answer Lies in Oz (which I had the privilege of writing the foreword to) is going to debut shortly! Stay tuned for a release date!
8/13/17 Minor Updates
Work on The Lost Tales of Oz anthology is proceeding apace. Meanwhile, I've updated the site to include information on The Emerald City Mirror #7, and Oziana 1978's non-canonical March Laumer story, "The Woozy's Tricky Beginning."
6/22/17 The Lost Tales Found Again!
More good news to report: The Lost Tales of Oz anthology is back in production, now with Eric Shanower illustrating! I can tell you from having read each of the stories (roughly about 15 or so), that it's going to be an excellent book! And now, with Mr. Shanower at the helm, it will be a beautiful one as well!
6/10/17 RE 4 News
Apologies for the lack of news/site updates, but here's a fun one: The forthcoming Royal Explorers of Oz: Book 4 will take place 10 years after the end of Book 3, and will visit Tarara again! No release date has been announced as yet.
5/16/17 The Other Emerald City
Completed the first arc of The Emerald City Mirror. As regards the other Emerald City, I'm unhappy to report that NBC cancelled what was otherwise an excellent Oz re-imagining.
4/8/17 Emerald City
After a long delay due to various circumstances, I just want to let everyone know that I'm about halfway through summaries and continuity notes for the Emerald City Mirror, an Ozian newspaper written by various Oz personages, and published in the 1990s by Books of Wonder, and distributed to members of the Royal Club of Oz.