Jesus' Words about Eternal Life
But whoever drinks of the water that I shall give him will never thirst. But the water that I shall give him will become in him a fountain of water springing up into everlasting life.
John 4:14
For God so loved the world that He gave His only begotten Son, that whoever believes in Him should not perish but have everlasting life. John 3:16
Most assuredly, I say to you, he who believes in Me has everlasting life.
John 6:47
And this is the will of Him who sent Me, that everyone who sees the Son and believes in Him may have everlasting life; and I will raise him up at the last day.
John 6:40
And I know that His command is everlasting life. Therefore,

whatever I speak, just as the Father has told Me, so I speak
John 12:50

And I give them eternal life, and they shall never perish; neither shall anyone snatch them out of My hand.
John 10:28

He who loves his life will lose it, and he who hates his life in this world will keep it for eternal life.


John 12:25

****************************

Music
"I Believe in Jesus"
****************************

Commentaries
This web site was created to glorify God through the words of His Son, Jesus Christ. It is our prayer that as you read Jesus' words you would be spiritually enlightened, enriched, and encouraged. Additionally, we have included biblical and historical information about Jesus' early life and His ministry on earth.
Eternal Life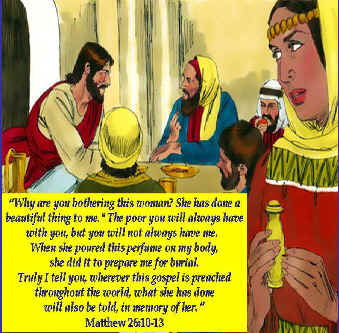 The bible teaches that our spirits never die. Jesus affirms this truth by saying "It is the spirit who gives life; the flesh profits nothing…" John 6:63. This means that life in our physical bodies is solely dependent on the presence of our spirits. Without the spirit there is no life! While on earth, Jesus addressed the reality of immortality or eternal life from the perspective of what happens to our spirits when we die. He preached that eternal life is an important issue because it pertains to our spirits living eternally in one of two places. One is everlasting life in God's presence, and the other is being eternally separated from Him in hell. Furthermore, Jesus teaches that answering the question about our eternal destiny has to be done in this life, because there is no opportunity after death – "Repent, for the kingdom of heaven is at hand!" Matthew 3:2. While some choose to deny the reality of hell, Jesus confirms its reality - "…for it is more profitable for you that one of your members perish, than for your whole body to be cast into hell." Matthew 5:30. This verse is one of several throughout the Gospels and Revelation where Jesus directly refers to hell and what happens there – "And if your foot causes you to sin, cut it off. It is better for you to enter life lame, rather than having two feet, to be cast into hell, into the fire that shall never be quenched—Mark 9:45. Jesus validated the truth about heaven and hell in the account of the rich man and Lazarus, the beggar. First, He stated specifically that both men died. He then went on to give us a clear insight into what happened, and where they went after their deaths. -. "So it was that the beggar died, and was carried by the angels to Abraham's bosom. The rich man also died and was buried. And being in torments in Hades, he lifted up his eyes and saw Abraham afar off and Lazarus in his bosom.–Luke 16:22-23. Explicitly, Jesus stated the rich man's description of Hell as "this place of torment" in contrast with the poor man resting in "Abraham's bosom" Luke 16:19-24 interpreted as a place of peace.

Physical death is inevitable and eternity is real. Therefore, Jesus teaches that we must prepare for both events on earth -

For God so loved the world that He gave His only begotten Son so that whoever believes on Him shall not perish but have eternal life John 3:16. Just before dying, the thief on the cross next to Jesus repented of his sins and Jesus told him - "Truly I say to you, today you shall be with Me in Paradise " - Luke 23:43. Most likely the thief had previously heard about Jesus, but he ignored His teaching until he was about to die. We should not wait until our final hour to have assurance of our eternal destiny. Spiritual rebirth through Jesus Christ is our only path to God and eternal life – "And I give them eternal life, and they shall never perish; neither shall anyone snatch them out of My hand. John 10:28. Jesus is our only path to God –John 14:6. Confessing our sin and accepting Jesus as savior is not about religion. It is being spiritually born again into God's kingdom and having the guarantee of eternal life. Jesus' sacrificial death, burial and miraculous resurrection sealed eternal life for all who believe and follow Him - "I go to prepare a place for you. And if I go and prepare a place for you, I will come again and receive you to Myself; that where I am there you may be also…"John 14:3.
Prayer for Salvation
Heavenly Father, I come to you in repentance for my sins. Please forgive me for them all. I believe that Jesus Christ is your Son and Savior of the world. I believe that He died for my sins and I now accept Him as my Lord and Savior. By faith I receive your forgiveness and the gift of eternal life. Help me to obey Your Holy Spirit, as I seek to walk in Your righteousness daily. Thank you Father that I am now Your child. In Jesus name: Amen