Jesus' Words about Prayer
"And when you pray, do not use vain repetitions as the heathen do. For they think that they will be heard for their many words
Matthew 6:7

"But you, when you pray, go into your room, and when you have shut your door, pray to your Father who is in the secret place; and your Father who sees in secret will reward you openly.
Matthew 6:7
And all things, whatever you ask in prayer, believing, you will receive."
Matthew 21:21-22
"Where two or three are gathered in My name, there am I in the midst of them."
Matthew 18:20
Watch and pray that you may not enter into temptation; the spirit indeed is willing, but the flesh is weak.
Matthew 26:41
And whenever you stand praying, if you have anything against anyone, forgive him, that your Father in heaven may also forgive you your trespasses
Mark 11:25
****************************
Music
"I Believe in Jesus"
****************************

Commentaries
This web site was created to glorify God through the words of His Son, Jesus Christ. It is our prayer that as you read Jesus' words you would be spiritually enlightened, enriched, and encouraged. Additionally, we have included biblical and historical information about Jesus' early life and His ministry on earth.
The Power of Prayer
Scripture records "But Jesus often withdrew to lonely places and prayed."- Luke 5:16. This verse affirms that Jesus demonstrated prayer not as an event, but a continuous spiritual experience. Therefore from His example we can draw four very important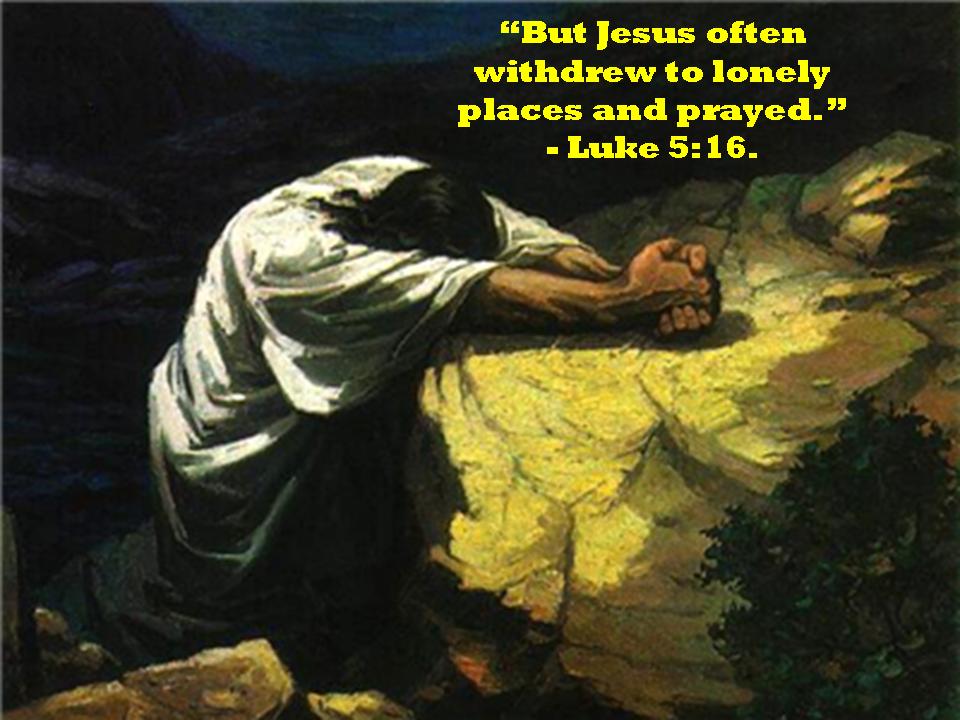 divine truths about prayer. First, Luke lets us know that Jesus had a habit of praying often. Second, Jesus clearly displayed the priority of prayer. Third, we see His human manifestation of an absolute need to access the power of God through prayer. Even He, the Son of God needed anointed power to carry out His mission and ministry on earth. Fourth is the guarantee that prayer with faith in God, releases His omnipotent power that is insurmountable in the world. As followers of Jesus Christ we cannot exist as effective witnesses, and experience the fullness of God's power in our lives without prayer. It is our spiritual life force. The channel of prayer is our only contact with God. Without it, relationship is impossible. But when we call on Him, and release faith in His supernatural power, He hears and answers prayer. In His infinite love, God grants us forgiveness, protection, revelation, healing, anointing and provision of all our needs.
To release God's supernatural power in our lives:
PRAY WITH PRAISE AND PURPOSE
"Our Father in heaven, hallowed be your name, your kingdom come, your will be done, on earth as it is I heaven. Give us today our daily bread. Forgive us our debts as we also have forgiven our debtors. And lead us not into temptation, but deliver us from the evil one." Matthew 6:9-13
PRAY WITH FAITH IN GOD'S POWER
"Have faith in God," Jesus answered. "Truly I tell you, if anyone says to this mountain, 'Go, throw yourself into the sea,' and does not doubt in their heart but believes that what they say will happen, it will be done for them."
Mark 11:22-23
PRAY IN JESUS' NAME
"And I will do whatever you ask in my name, so that the Father may be glorified in the Son. You may ask me for anything in my name, and I will do it." John 14:13-14
PRAY WITH CONFIDENCE
"This is the confidence we have in approaching God: that if we ask anything according to his will, he hears us. And if we know that he hears us—whatever we ask—we know that we have what we asked of him." 1 John 5: 14-15
PRAY ABOUT EVERYTHING WITH THANKSGIVING
"Don't worry about anything; instead, pray about everything; tell God your needs, and don't forget to thank him for his answers." Philippians 4:6
PRAY WITH TRUST IN GOD'S ANSWERS
"If you, then, though you are evil, know how to give good gifts to your children, how much more will your Father in heaven give good gifts to those who ask him!" Matthew 7:11